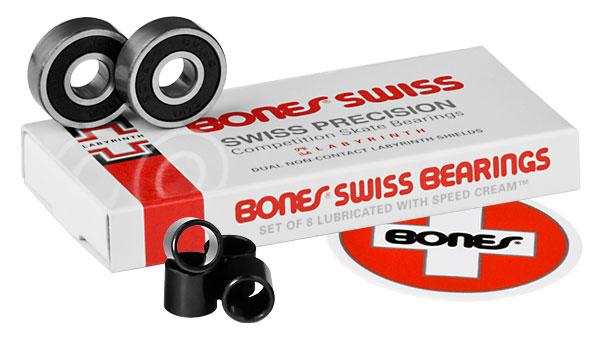 Bones Labyrinth Swiss Bearings (set of 16)
BON010
Bones Swiss Bearings (set of 16)
Legendary Bones Swiss bearings have been the industry standard ever since they were introduced in 1983, and are still a favorite with professional skaters. Fast, smooth, and very long lasting, they remain unequaled in their class. Bones Swiss feature the same ultra high performance components used in Bones Swiss Ceramics, except that the balls are polished chromium steel instead of ceramic. Bones Swiss have earned their fame through decades of proven, dependable, superior performance for the best skaters in the world. No hype, (ABEC-99!) just the best... ask anyone who has been skating for a few years. 
Legendary Original Bones® Swiss Bearings are the optimum combination of Bones Skate Rated™ design and Swiss precision manufacturing creating the standard by which all other bearings are measured. For more than 24 years preferred by the world's top professional skaters. Proven, professional competition-grade speed and durability make Bones Swiss normally last several times as long as ordinary ABEC rated bearings.
Bones Swiss bearings have seven 5/32" balls. These are not Super Six bearings, which have six 3/16" balls.
Features of Bones Swiss bearings:
Stronger Faster Longer Lasting Pre-Lubricated with Speed Cream

Easy Cleaning & Relubricating Removable High Speed Nylon Ball Cage Non-contact

Removable Rubber Shield Bones Skate Rated Design & Quality 

8 bearing spacers

cleaning instructions
Contents
Set of 16 bearings
8 bearing spacers
Instructions
Sticker